The Best Birthday Parties Are Mediocre Ones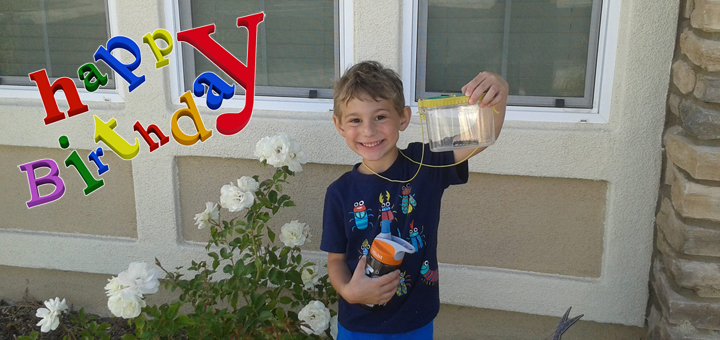 When I was a kid, birthday parties were fun but they were also carefree and easygoing affairs.  Many of the parties were held in the family's backyard, especially if they had pools.  The menu du jour was cake, and, if you were really lucky, pizza.  Once in a while you might get an invite to a bowling alley or roller rink or Chuck E Cheese, but even these were relatively unstructured events.
Fast forward to my kids' childhood. I was rather shell-shocked to find that the birthday circuit had changed, starting when my oldest began preschool.  I guess I should not have been surprised that, in our now hyper-vigilant and over-scheduled society, that the parties would be held at specific places, for an allotted amount of time, with scheduled activities and no free-play.  This of course does not bode well for my children, particularly my daughter, who are not much of team-players and would rather be doing their own thing.  Admittedly years ago I would be embarrassed when they would be at some tiny tots gym for a party when it was time to sit in a circle and do some dumb activity and my daughter was nowhere to be seen because she was in the corner trying out fun equipment.  But now I don't care.  I actually admire their independence and ingenuity.   Who would want to go to a fun gym with tons of kids apparatuses but not be allowed to freely play on them because they have to sit the entire time in some Kumbaya circle and play hot potato?
But it's not just the relentless structure that has made the birthday circuit less fun.  It's also how elaborate and expensive they have become.  Case in point: some of the goody bags that my children have received over the years likely cost more than the gift we gave (and I don't cheap out on that).  It's one thing to have goody bags filled with candy or cheap plastic crap (which I think are silly anyways) and completely another to give out full size puzzles or stuffed animals.
Then there's the food.  When did kids' parties get so fancy?  I know a lot of people who still do pizza (myself included) but I have been to plenty where the spread of sandwiches, cold cut platters, and veggie trays rival some of the best brunch buffets.  Part of the problem, I suppose, is that it is no longer alright to drop off your kid (the ones above five, not the younger set) and leave.  Because we must remain ever-vigilant, the parents have to stay at the party.  So perhaps the party-throwing parent feels obligated to throw in better food to the mix than pizza. (Fun fact: we just went to one for my older daughter's friend turning nine.  Although I could not just drive away, they were old enough for me to walk next door to coffee bean and enjoy a spot of tea.  It was the best hour of my weekend).
Planning the parties under these conditions is nothing but stressful.  For one thing, many of these play places have strict rules regarding the number attending:  you either have to have a certain number, can't have more than a certain number, or have to give a final tally by a certain date.  In a world where people R.S.V.P. less than they use landlines, it is nearly impossible to get an accurate number of people who are attending the party prior to the event.  This doesn't include the Johnny-come-lately's who either R.S.V.P. the day of or just show up, or the last-minute cancelers who decide not to come an hour before the event for no good reason at all.
Of course, if you overshoot or undershoot, you get charged anyways.  Moreover, the places adhere to the allocated time slot like drill sergeants.  They start cleaning the room before the last plate of cake is given out so they can get ready for their next event.  Last year my daughter and I attended a party at the American Girl store.  They were clearing off the appetizers before I could even snag a pretzel, so they could already bring out the entrees, because they were steadfastly holding onto their one and a half hour policy without going a second over. These conditions make the whole experience chaotic and stressful, like a wedding.   There is no time for the kids to savor the moment, or freely play, or take their time opening gifts because the clock is running.
After doing this twice (once for my daughter and once for my son), I have officially given up.  I am not paying upwards of five hundred dollars to rent a place for a lousy two hours and get kicked out of the venue like a barfly that has had one too many drinks.  Instead, I have convinced my older one that she gets far more out of a vacation weekend, to places like the zoo or a waterpark, with the family.
For my older son, last weekend we rented a gazebo at the local park (less than fifty dollars), rented one bouncy house and a silde (about a hundred dollars), and served pizza (I did break down and got a small tray of tea sandwiches for the parents, which ironically no one touched).  It was the most stress-free party I have done.  Some people couldn't come, some had to cancel, and some came at the last minute.  But you know what? I didn't care, because I didn't have to report to someone how many guests were coming.
When the first few parents came with their kids, they looked a little lost. (Both the parent and the kid).  I think they were waiting for me to direct them to whatever activity we were supposed to be doing.  But I pointed to the bounce house and the playground and winked.  There was a little hesitancy on the part of some, but pretty soon all of the kids were running around and playing like actual children and the parents were enjoying snacks and actual grown-up conversation.  Because we were the last rental of the day, we didn't have to evacuate the premises in a hurry, so a couple of sets stayed until the bouncy house and slide were picked up, far beyond the two hours I would have been allotted anywhere else.  My son actually got to spend time with his friends, and they still celebrated him when I called everyone over for cake. All in all, it was a successful venture, and wonderfully stress-free and fun.  If this is what mediocre parties are like, bring it on!

I am a non-pinterest, domestically challenged working mother of three kids under the age of ten. Tired of today's hyper-vigilant and one-size-fits-all parenting, I have decided to be the face of a new movement where we celebrate and value those mediocre moments of motherhood instead of obsessing about some random standard of perfection. I strive to be a superhero, freeing other moms from these societal stresses and pressures. I desire to have my voice heard to effectuate change in parenting standards and attitudes.
I am mediocre mom!

Latest posts by Wendy Marcus (see all)