Mediocre Mom's New School Year Pledge 2016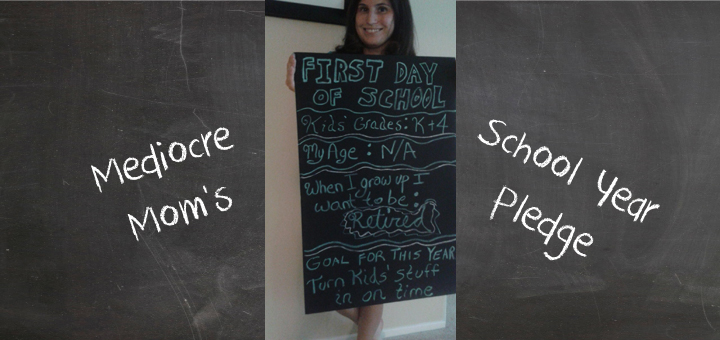 It's officially August.  When I was a kid that meant one more month left of Summer.  But I guess we didn't want to share that kind of fun with our kids, so for most of us it now means "Back to School".  I was a Summer birthday myself, and never dreamed that my daughter, who was born in late August, would be celebrating her birthday in school.  But that's the world we live in now, where Target starts ditching it's patio furniture right after Memorial Day and starts filling the back-to-school supplies bins right after Independence Day.  I actually finished my shopping yesterday because I wanted to make sure the shelves weren't completely picked over before I went.
Nevertheless, we have had a wonderful Summer and I am all pumped up for a new school year.  So here is my 2016 pledge list.  Enjoy!
I, mediocre mom, pledge:
To check the kids' backpacks at least once a week* for important papers. (*Until Easter, and then all bets are off).
To give the kids something else besides Lunchables once per week, even though they complain about everything else I put in there. (I am still not doing bento boxes.  I leave that crap to Pinterest moms).
To sign my kids' permission slips, school notices, pta notices, etc., on time. (The day of still counts!!!)
To encourage my children to do all homework and projects in a happy, cheerful tone. (Except for that stupid mission project if we get it this year for fourth grade. Blech).
To volunteer* as much time as possible to the school and pta functions. (*Cash donation may be substituted in lieu of time).
To not complain about holidays* that the kids have off, which necessitated us starting before Labor Day to begin with. (*Does not include in-service days, minimum days, and random days that have absolutely no relationship to any reasonable holiday).
To make sure the kids look decent* on picture day. (*Standards for decent vary per child).
To get the children fed, dressed, and delivered to school on time and with all required paraphernalia (any three out of the four will suffice as a 75% pass-rate).
To get all the kids in bed and tucked-in before 8:15 p.m. (especially when the Fall T.V. season starts, so I have time for my shows!)
To keep my sense of humor when I fail at least half of these by Halloween.

I am a non-pinterest, domestically challenged working mother of three kids under the age of ten. Tired of today's hyper-vigilant and one-size-fits-all parenting, I have decided to be the face of a new movement where we celebrate and value those mediocre moments of motherhood instead of obsessing about some random standard of perfection. I strive to be a superhero, freeing other moms from these societal stresses and pressures. I desire to have my voice heard to effectuate change in parenting standards and attitudes.
I am mediocre mom!

Latest posts by Wendy Marcus (see all)